YATTA
ZOE
LIBERIA'S FORGOTTEN
CULTURAL ICON SUFFERS NATIONAL NEGLECT
…Lives Quietly in Her Home Village in Bomi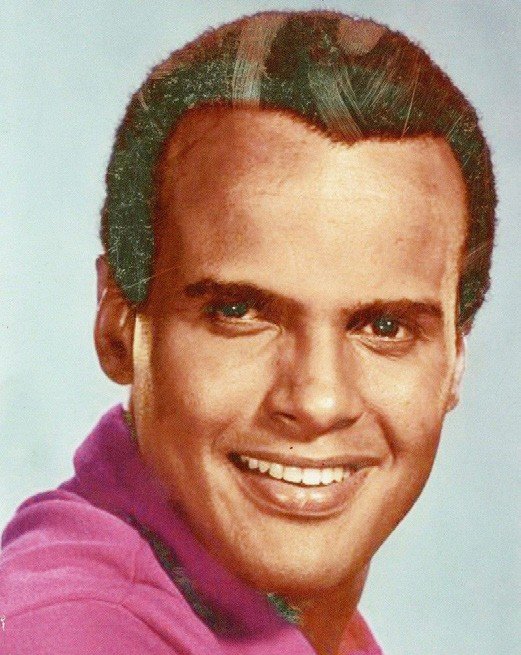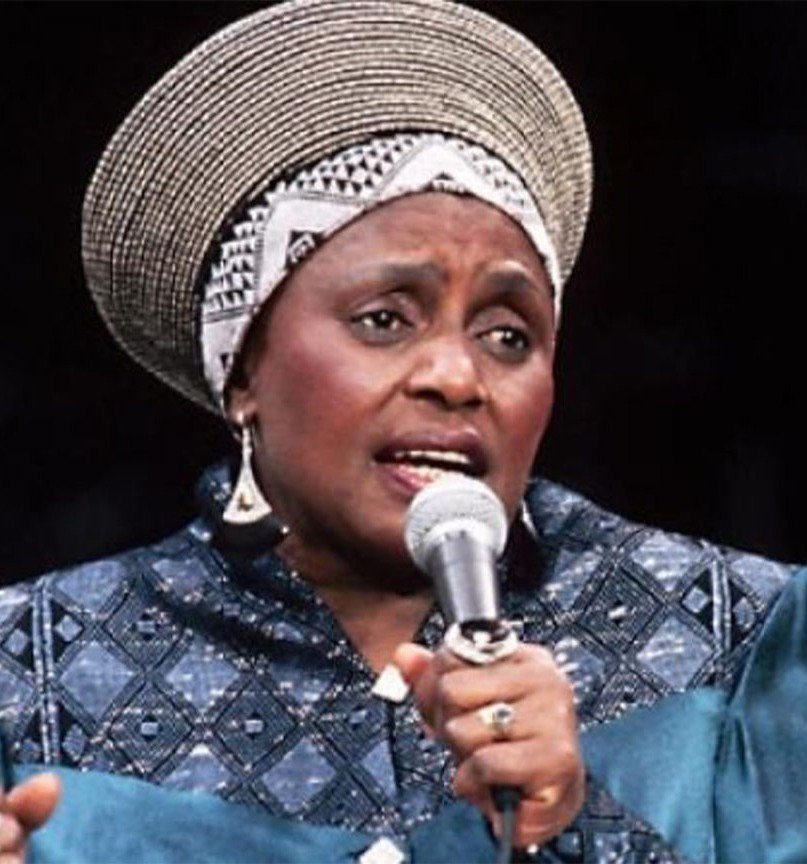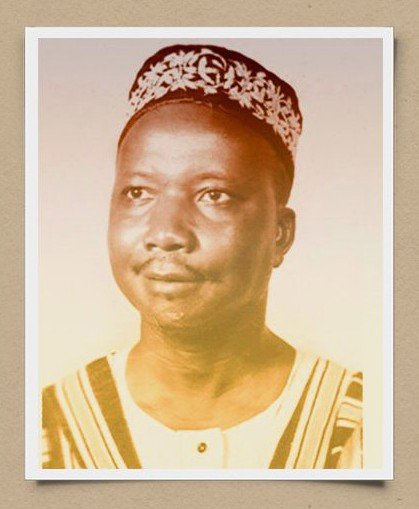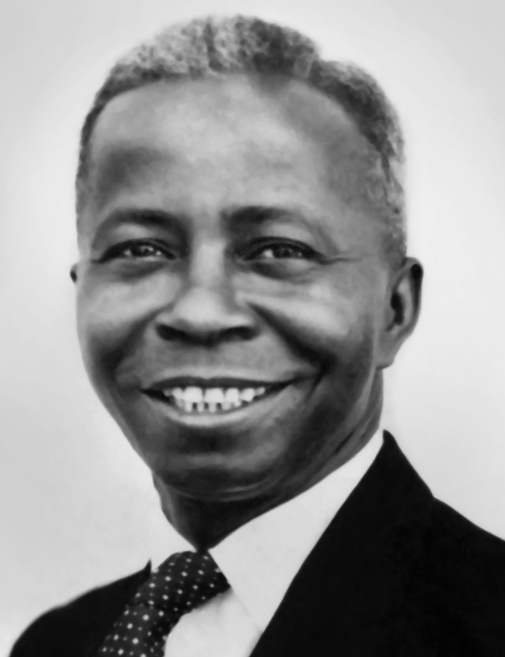 (L-R) Harry Belafonte, Miriam Makeba, Bai T. Moore and E. Reginald Townsend were all contemporaries of Yatta Zoe.
A forgotten national personality and legendary Liberian cultural icon, whose incredible dancing and tuneful musical talents kept Liberian and international audiences on edge for four decades, Yatta Zoe is now reduced to living a quiet but miserable life in her home village in Bomi County, Western Liberia.
Yatta could not access quality medical attention in her own country. The healthcare delivery system remains all-time low, and recessive and professional doctors and nurses are in short supply. Constrained by prolonged ill-health, she sold her only house in Monrovia for advanced medical treatment in Amsterdam, the Netherlands.
Like other national heroes and heroines, living or dead, she is currently having the bitter taste of how successive Liberian governments snub Liberian artists.
Speaking recently with reporters in her home village, Yatta Zoe, formerly known as Victoria Snetter, reflected on her life, career, defining moments, and disappointments, including her regrets in life.
Yatta divulged that she sold her only house in Monrovia to pay her treatment in Amsterdam, the Netherlands, because she could not be treated here (in Liberia) and that going to Amsterdam was expensive.
"This is why I am now living a quiet life in my village Tom Town, in Bomi County. Although it is painful, I am grateful to the Almighty God to be alive today," she said in a reflective mood.
Nevertheless, Mama Yatta used the occasion to address herself to other cutting-edge issues bordering on promoting Liberia's rich culture, tradition, and values.
She underscored the need for the positive works of some of Liberia's best and brightest minds in culture and tourism, including the late celebrated author and statesman Bai T. Moore, Peter Ballah, Tambakai Jangabai, E. Reginald Townsend, among many others, to be appreciated.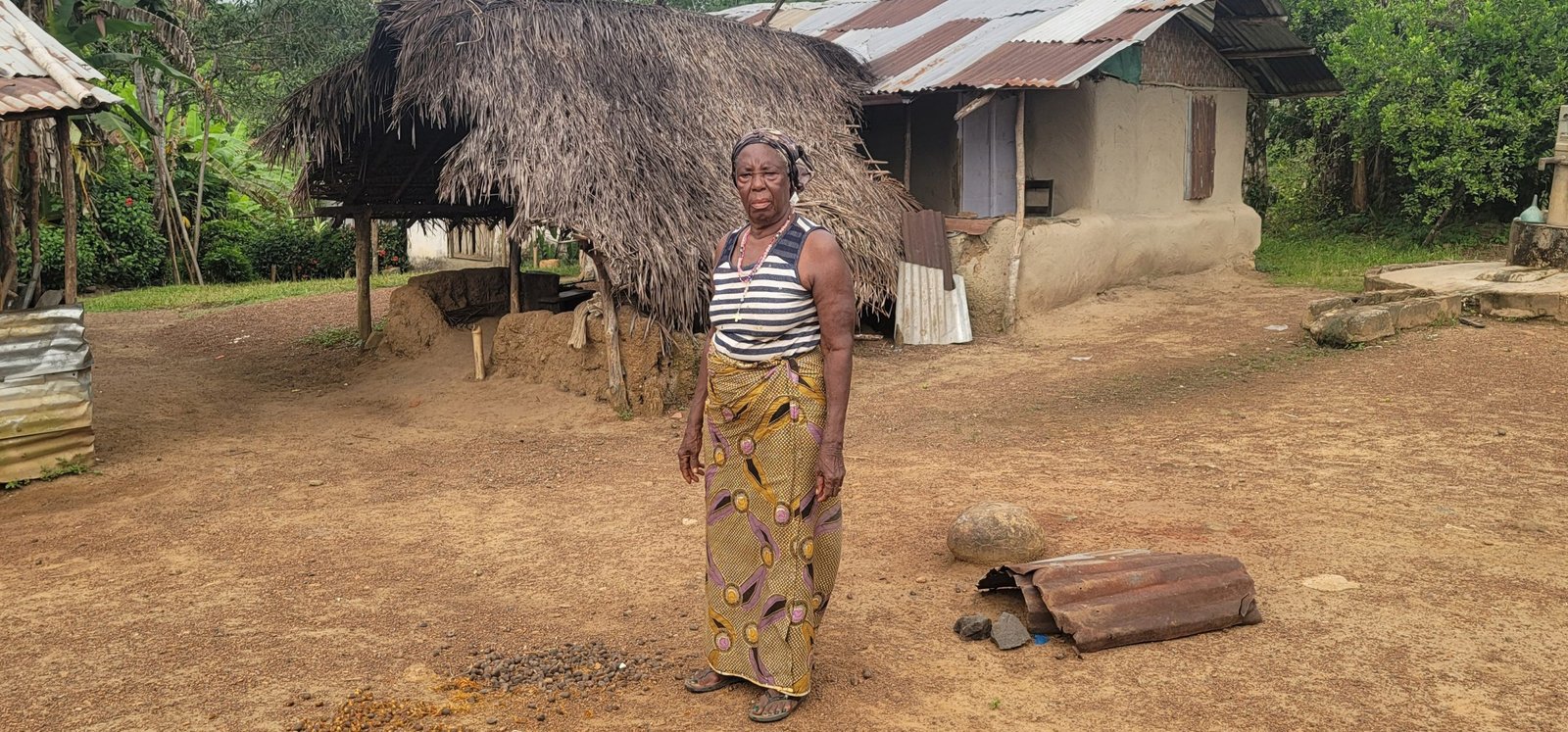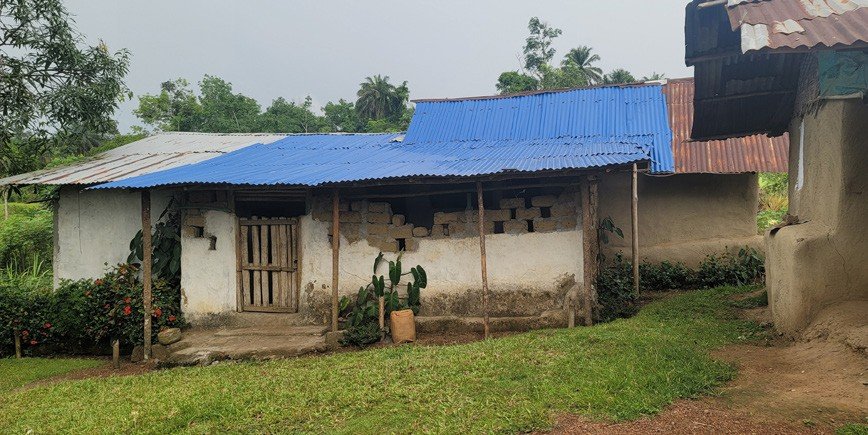 Yatta Zoe at her Tom Town village in Bomi. Left Insert: Photo of the front elevation of her house in Bomi
"The likes of Bai T. Moore encouraged respect for, and adherence to Liberia's endearing cultural and traditional practices and values in their lifetime, and as such, their demonstrated commitment, dedication, and foresight must be embraced and fostered at all times," she stressed.
Another point that Madam Yatta Zoe accentuated is for Liberians to speak their local languages and English, which is officially spoken in the country. She expressed scorn and ridicule over the behavior of some Liberians who cannot or are even ashamed to speak their local dialects.
According to her, the need for Liberian vernaculars to be spoken by the citizens as it is done in other countries, including other African countries such as Nigeria, Ghana, Guinea, among others, cannot be overemphasized, saying "speaking local vernaculars adds more beauty and dignity to the culture of a country and its people.
"It is unfortunate that whenever I travel abroad and while singing, I use my Gola language, the white people clap for me but Liberia, you see people, especially the young people, referring to our languages as 'that thing,'" she pointed out.
Liberia has more than 16 indigenous dialects with Kpelle and Bassa dialects taught at the level of universities in the country and, to a lesser extent, Vai, Loma, and Mende dialects which have their unique alphabets.
Yata Zoe, whose name may not be a household word among the current and succeeding generations of Liberia, was a huge countrywide asset in yesteryears as her remarkable dancing and singing skills indisputably lifted high the flag of Liberia at home and in the Diasporas.
Yatta Zoe's story is a complete lesson in struggling to succeed, patience, perseverance, meekness, humility, and self-esteem. She lost her dad at an early age, leaving her with a faint memory of him except from the stories told about him by surviving family members, including her mother,
whom she also lost in 1970.
These unfortunate developments in her early life made her life and are raised by some family members, the Grandmother of Liberia's former Foreign Minister, the late Dorothy Musuleng
Cooper.
According to the Liberian Cultural icon, when her grandmother died, she lived with Musuleng's mother. The latter sent her to a mission school called AA Mission School, where she graduated from the 9th Grade.
The cultural celebrity admitted that when she enrolled at the College of West Africa (CWA) in the 10th Grade, she went wayward by getting pregnant for her first child. But, that could not deter her from furthering her education as she was among other students who were the first batch to
attend the then Martha Tubman Night School. She spoke of hardship going through the school and at the same time taking up the arduous task of catering to herself and her child as a single mother. Determined, she soldiered on and completed her
high school education.
The former member of the Zulu Dance Band- a South African Dance group where she underwent training with the likes of South Africa's late musical icon, Mariam Makeba, and competed with Nigeria's renowned musical legend, political activist, and pan-Africanist, Fela Kuti was at the zenith of her musical occupation in the 1960s-70s when she toured many nations in Africa, Europe and the Americas where she made a good name for herself and her motherland, Liberia.
With the support and backing of Liberia's 18th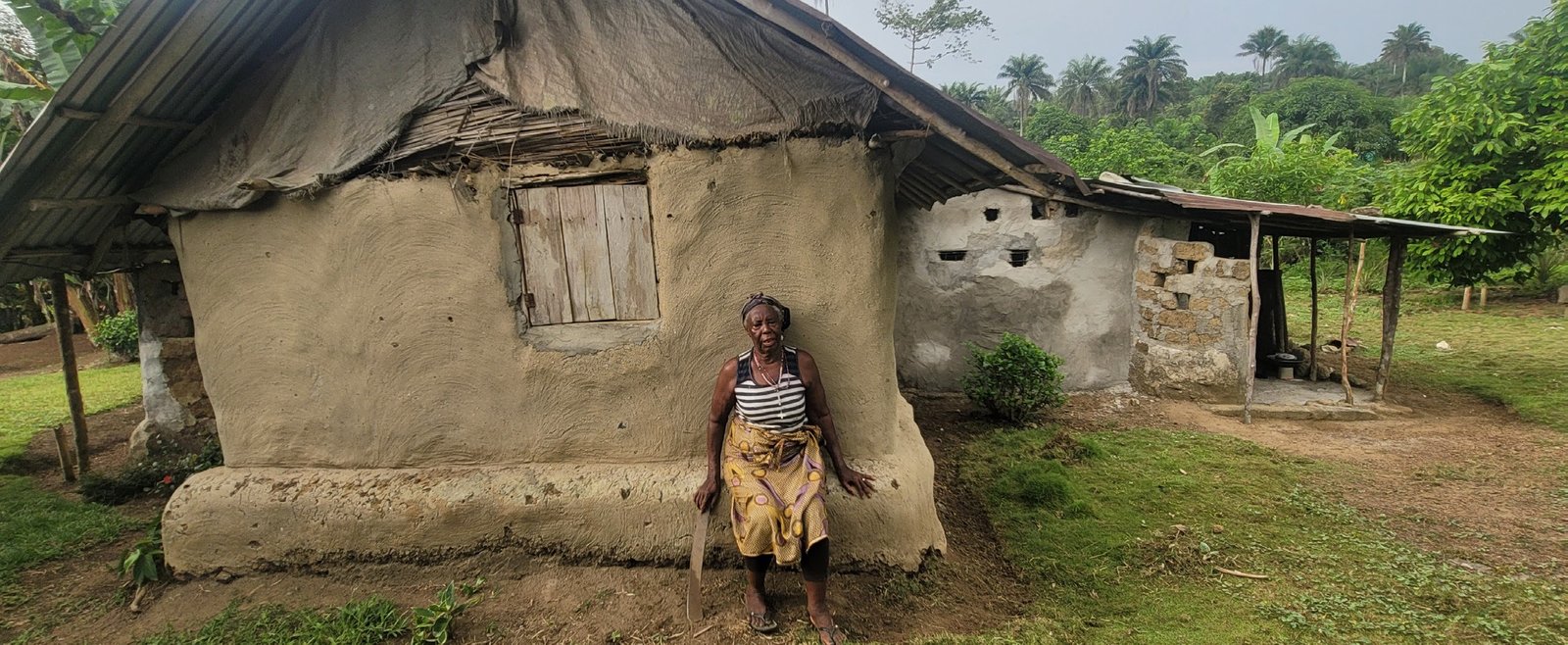 At 7:30 in the Morning, Yatta Zoe is seen in a pensive mood at the back of house ofter cleaning the yard around the house.
President, William V. Tubman (late), and other senior government officials, including Bai T. Moore, E. Reginald Townsend, just to name a few, Yatta Zoe graced multiple high-profile occasions when Heads of government and other foreign dignitaries officially visited Liberia.
For instance, during the state visit of Queen Elizabeth II of England to Liberia, President Tubman made Special Arrangements for her to showcase her incredible dancing and singing talents, something which she did with high admiration and appreciation by the visiting Queen and members of her official delegation.
Yatta Zoe, who taught the Gola and Vai Dance Steps in the United States of America (USA), was officially invited to perform at the crowning ceremony of former Central African republic leader, Emperor Jean-Bedel Bokassa.
The legendary singer and dancer did not only acknowledge and appreciate the role of another former President of Liberia, Dr. William R. Tolbert (late), whom she said, also promoted Liberian culture, tradition, and values after the era of his predecessor, President William V. S. Tubman. "President Tolbert picked up from where Tubman stopped. He promoted culture as a way to showcase Liberia to the outside world," she added.
Asked by a reporter as to the most appreciative part of her life, Mama Yatta responded that looking around and finding out that most of her friends are no more alive while she is still alive is the most appreciative part of her life.
Yatta Zoe, who is now above 80, wholeheartedly appreciated Liberia's former President and Nobel Peace Prize laureate, Ellen Johnson Sirleaf, who she said, has been very instrumental in attending to her welfare and her community in Bomi County. She praised former President Sirleaf for recognizing, in practical terms, her positive contributions to the promotion of Liberia's culture, tradition, and values and in making sure that her legacy lives on. At her tender age, Yatta Zoe may have gotten the leap she needed in life to get away from the poverty-stricken life she had toiled when she got in contact with the late Mrs. Willhemena Dukuly
Bryant, who was working at the Basic Arts Center in Clay. Mrs. Bryant was a friend to one of her uncles, Samuel D. Hill.
"She introduced me to William Lewis, who was operating a nightclub called LIBERIAN JUNGLE, and I was offered a job at the nightclub and paid $15 per month, taking out $10 to pay for my rented room on Mechlin Street, downtown Monrovia," she recalled.
Madam Zoe recalled that every night, she and others went to the nightclub to perform and return home during the early morning hours of the next day. According to the musical legend, her amazing dancing steps and skills soon caught the attention of so many admirers, and she became the talk of the town as told by those who patronized the place.
Yatta Zoe's adventure at the nightclub attracted many people, some of whom were related to her, but she never knew.
"So, we came back from dancing on this particular day, and Ma Willhemena ( the late Mother Dukuly) told me that a cousin of my late father wanted to see me. I was not enthusiastic or happy at first because after going through all these hard times taking care of myself, I just felt that I never needed any person to come to me as a family person," she further told reporters.
"That person was the late Bai T. Moore, one of the greatest Liberians that contributed immensely to the development and growth of cultural and tourism sectors of the economy," she declared.
Yatta further explained that Bai introduced himself to her as a cousin to his late father, but he was not around when her father died. Bai, according to her, was away in the United States. The missionaries he was living with took him for education and had returned to Liberia with a black lady, called Catherine Dunner, who wanted someone to work and teach at her dancing school in the United States.
The icon said she first rejected the offer because there were personal things she wanted to do in Liberia than to travel abroad despite all the persuasions from Bai T. Moore to take the offer
since it would change her life.
"I didn't want to go because I wanted to take care of my daughter. We were two ladies. She took our photos. I wanted to remain here, look for a man, settle down, but to make a long story short, the time came when the other lady, Famata, became pregnant, and that is how I went abroad," she said. Asked what her experience was relative to the trip abroad, the musical icon said the trip turned out to be one of the worst things she ever experienced. She said for two years she worked for Madam Dunner and her husband, cleaning the apartment, the office, doing odd jobs at home and the office, waiting to teach the students on an hourly basis for which she was never paid a dime.
"She said she had already paid me because she
bought my air ticket from Liberia to America. The husband started doing funny things, and I didn't like it. Then I slapped him, and he told his wife about it, and they put me outside. I went to the Liberian consulate, and they took me in, but they didn't like me to be coming back late from shows," she said.
Madam Yatta Zoe taught the Gola and Vai Dance Steps, which her students were fond of and when few places were teaching African Dance, among them was the one provided by one Madam Martha Alatunji from Nigeria at the time.
With her talents and now on her own from the heinous treatment she got from Ms. Dunner, who promised her goodies but failed to deliver, Yatta said she got a break when she came into contact with one Philemon, a South African refugee, who was living in Liberia then and was fortunate to be taken to the United States by a culture promoter, Harry Bellefine, who took the Ballet African from the West African state of Guinea to the United States.
Bellefine, according to Yatta, took her to the Zulu
Dance Band, a South African Dance group where the legendary Mariam Makeba was also a member in 1963. "Mariam and I could not get along because she had the perception then that Liberians were brainwashed to live and behalf like white American people. She took issue with how I used
to dress in dresses and trousers that were western, and she didn't like that. She used to dress in an African lappa suit to perform. I was offended, and I slapped her. The case reached the management, and I was fired. But Ballet African took me in, and there was where I met my husband, a Guinean called Sorromou," she recounted.
She said though she was not happy with Mariam, she later realized that what Mariam told her then that got her annoyed later made her take one of the major decisions concerning her actual identity. "I was not happy with Mariam, but she told me that if I must succeed, I needed to change my name to my real name, and that was how I changed my name to Yatta Zoe, the original name I was given at birth," she added.
As a struggling "country girl" who, one way or the other, got to associate with the "civilized" people, she was asked what was the difference that existed between the two sets of girls those days. She said: "The country girl will scrub the floor, wash the pots, cook, do all the odd jobs at home, but the civilized girl will not do those things. I grew up with Eva Mill Craulker and D. Musuleng Cooper. I never one day saw them in the kitchen until Dorothy got married," she said.
Madam Yatta Zoe said even at the College of West
Africa, where she spent just a year, there was a sharp difference between the "country girls" and the "civilized girls" and mentioned the name of Victoria Tolbert, Wokie Tolbert, Ellen Johnson Sirleaf, etc.
Asked how she responded to some of those discriminatory tendencies from friends, she said she was crying when she was going to the United States. She didn't want to go, and the late Bai T. Moore asked her, 'why are you crying; you don't want to be a Bomb?' She said she did not like using the word "Bomb" but told herself to be the best in singing and dancing anywhere she went. She said these things, her reputation, remembering to know she came from and to be herself and not being like others who guided her to overcome most of the things she faced.
Asked to comment on the origin and meaning
of her famous song: YOUNG GIRL STOP DRINKING LYSOL, Yatta pointed out that it came out of betrayal and a lesson taught young girls not to take their lives away because of love. "I used to have a playing mother those days, a very beautiful 'country' girl on Front Street who was loving to a boy from the elite class from Grade school who was sure to get married to the boy. But the boy's parents had another woman from an elite family, which the country girl didn't know anything about. So, on a particular day, a friend came running to her yelling to come over and see something. The girl was pressing her mother's clothes and instantly left the clothes. When she got to the place, she saw her boyfriend walking down from the church with his just wedded wife hand in hand. Seeing what happened and being downhearted and frustrated, she ran to the house, entered the restroom, took the bottle of Lysol,
drank it, and went upstairs, where she later on died. It was a sad moment," she explained.
She said that is how her first son, "YOUNG GIRL STOP DRINKING LYSOL," was made and it became popular with young people across the country then based on its message that provided education to all.