…Offers Nutritional Services
By: Leila B. Gbati
A Liberian-American Takeout Food Center has been established near the Fendell campus of the state-owned University of Liberia near Mount Barclay, outside Monrovia.
Known as ZEMA, the Center was officially opened on Friday by a Liberian Couple: Mr. Ezekiel Stewart and Mrs. Jemima Stewart.
The couple returned to their homeland, Liberia, from the United States of America (USA) recently. Mr. and Mrs. Stewart disclosed that they have not come to look for any employment opportunity but to help create much-needed jobs for the benefit of Liberians, especially young people.
The Liberian ZEMA Takeout Food Center had delicious, mouthwatering, and tasty foods of both Liberian and American origins on its regular menu including
fried Chicken, fried and jollof rice, Acheke, grilled fish, smoked chicken and so many others.
Mr. and Mrs. Stewart have lived in the USA for decades but decided to return home to contribute their quota to the growth and development of the country.
Mrs. Jemima Stewart is an American-Liberian trained nutritionist who uses methodical and food-based approach to modify an individual's eating habits and often creates a personalized dietary plan.
Nutritionists also guide customers toward eating fresh, natural foods, and offer accompanying education to further promote healthy dietary plan.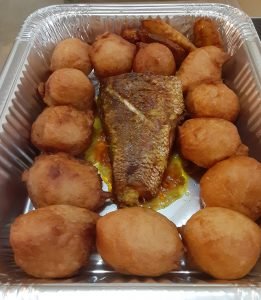 Speaking to THE IMAGES Magazine online at the opening ceremony of the Center, Mr. Ezekiel Stewart observed that there are many misconceptions about Liberia abroad, a situation which he said, is not good for the country's image.
He asserted that nobody can best develop Liberia except Liberians themselves by working together in peace and harmony and rising above negative acts including the undermining and undercutting of each other.
For her part, Mrs. Jemima Stewart indicated that their primary desire is to help provide needed employment opportunities for young people.
According to her, they left Liberia before the outbreak of the Liberian armed conflict that lasted nearly 14 years during which so many people suffered.
She stressed that though the life she lived in America is far better than the one she is now living in Liberia owing to the type of food she sells here for little amount. She said such healthy food is being sole in the USA for 10 or 20 USD.
"But that is not all to life. Liberians have needs and in America, things are expensive. Additionally, the economic system here in Liberia is though" she stressed.
The Liberian ZEMA is a brand that has been created in Liberia and they are trying to make it get bigger, and through that, they can hire more people to work with the Center.
"This is Zema Fry Chicken, it is a fast food but in Liberia our people love rice, so we decided to add jollof and fried rice to the menu," she said.
She called on her fellow Liberians to patronize the operation of the center. She also appreciated residents of Fendell for embracing the Center.