…Dr. Ajami Assures
A young, promising, and innovative Liberian Medical Doctor, Ibrahim Fawzi Ajami, has assured that with the blessings and direction of God, he remains strongly committed to providing professional medical services to all.
Born of a Lebanese father and Liberian mother, Ajami, a Greenberg World Fellow 2017 of the Ivy League Yale University and President of a well-known medical group, styled: "Young Professionals trying to Save the World One Patient at a Time" pointed out that his services are aimed at bringing much-needed relief and comfort to the sick, no matter their status in society.
Making Special Remarks recently, at a program marking the celebration of his recent graduation from the Liberia College of Physicians and Surgeons (LCPS) post graduate specialist training in Internal Medicine, at his Thinker Village Residence along the Monrovia-Roberts International Airport (RIA) Highway, Dr. Ajami pointed out that his successes and achievements are a result of the firmed support accorded him by his caring parents and siblings, especially his mother and elder sister. He also failed not to mention the drive from his charming and dedicated wife and his lovely children. He asserted that "their never quieting voices of encouragement, hard advice and physical support helped mold me into the man I am today."
As a young high schooler, Ajami went on to tutor kids for lunch money; however, he was still able to leave high school with a bang:  topping the entire school and going division one in the West African regional exams.
This achievement took him straight to the University of Liberia where he successfully studied Biology and Chemistry. He again enrolled and successfully completed the famous A.M. Dogliotti College of Medicine of the University of Liberia. Not satisfied, he went further to specialize as an Internist at the Liberia College of Physicians and Surgeons with training done at the JFK Medical Center.
"The journey that made me to be where I am today was not an easy one. It is the grace of God that got us this far," he told the gathering at his residence.
"I have always been blessed with very powerful women, my beautiful mother, Ms. Cecelia K. Collins, and sister, Mrs. Nada Ajami-Tondo, are my backbone. I have also been blessed with very supportive siblings", he said.
Dr. Ajami also recognized and praised the Department of Internal Medicine of Liberia's largest referral hospital, John F. Kennedy Memorial Center, Drs. Yassah Barclay, Flinhway H. Dickson, Mukhtar Adeiza and many others at the JFK for their support in pushing him to be the best that he could be.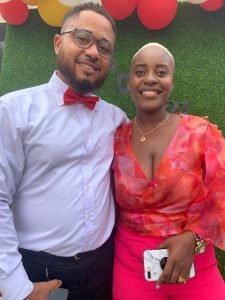 Ibrahim and other medical doctors have also been providing world-class medical treatments to COVID-19 patients at the Star-Based Medical Facility on Bushrod Island, Monrovia.
"Today is not about me but the people who enabled me to stand here. I am grateful to everybody for the support, encouragement, and prayers that kept me going," he said.
Earlier, in a welcome statement, Mrs. Amanda Jallah-Ajami, on behalf of the Ajami Family, expressed appreciation to all those who graced the occasion to accord Dr. Ibrahim Fawzi Ajami his flowers for his impactful services to the Liberian nation and humanity.
.   
Speaking at the occasion, a senior resident doctor at the John F. Kennedy Medical Center, Dr. Flinhway H. Dickson, described Dr. Ajami as an "Example of Excellence, a humble and intelligent professional."
Dr. Dickson stressed that "apart from being hardworking with knowledge and skills, Dr. Ajami also has passion for what he does and that can be seen by his colleagues and patients to the extent that when he is not on duty, his patients are concerned".
Dr. Dickson also appreciated Mrs. Ajami, and emphasized that, "behind every successful man, there is a woman, not just a woman, but an accomplished woman."
Also making remark at the occasion, Dr. Augustine L. Kollie from the National COVID-19 Response, Star Base, disclosed that he and Dr. Ajami got closed when they became members of a medical team of eight young doctors nicknamed "SPARTANS", headed by Dr. Heounohu Hessou who is now specializing in Emergency Medicine in Cape Town, South Africa.
"We worked together and no one could tell the difference between seniors and juniors because we all had one national goal which was to cohesively fight the pandemic. But I can tell you for free, Dr. Ajami is a very humble guy, there is nothing that you deserve he wouldn't give you," he said.
.