Estella Liberty Kiamue, Director-General, Liberia Broadcasting System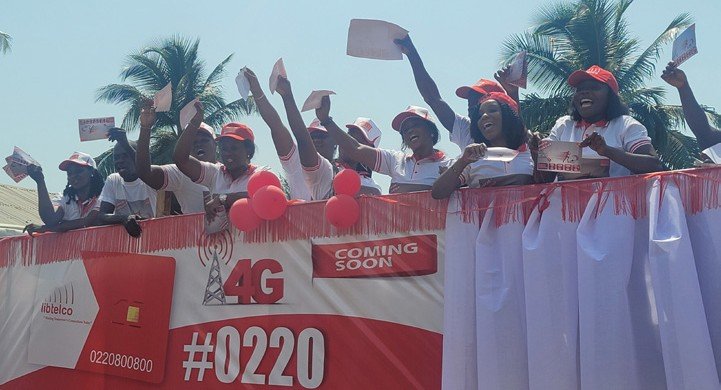 Left: Bill Timothy and Ralph N. Sonkarlay Richmond N. Tobii, Managing Director,
Libtelco
The Liberia Telecommunications Corporation (LIBTELCO) has launched a new hub near the densely populated commercial district of Redlight in Paynesville and formally launched its transition to LTE in the Rehab Community outside Monrovia.
The hub's launch is part of LIBTELCO's programs aimed at extending its valued services to many communities in Monrovia and its environs and other parts of the country. LIBTELCO, a public corporation whose statutory mandate includes, among others, provision of high quality, fast-speed, and generally affordable internet services through its optic fabric cable, has, at the same time, been formally authorized by the state-owned Liberia Telecommunications Authority (LTA) to operate as a GSM mobile service provider in the country.
With the green light provided, LIBTELCO now finds itself in a professional environment wherein it will compete with two of the nation's most popular GSM companies, including Lone Star Cell MTN and Orange- Liberia.
The Managing Director of LIBTELCO, Mr. Richmond
N. Tobii, explained in a recent interview with THE IMAGES magazine that the entity's transition towards the provision of GSM services had been occasioned by some crucial factors, including security-related issues. He referred to the recent saga surrounding surcharges introduced by some GSM companies.
According to Managing Director Tobii, LIBTELCO's joining of other GSM providers will bridge the gap to allow people to have adequate services for all parties. "The other side is that we want to extend beyond where we are today to other parts of the country to ensure that we provide services to our people," M.D. Tobii added. The competition in GSM service provision, M.D. Tobii noted, is not strange for the LIBTELCO family because its members have been with other companies in the internet service. As such, LIBTELCO has captured a sizable number of Liberia's telecommunication market with its professional, people-center, and impactful services.
With the availability of optic fabric cable, LIBTELCO's Managing Director boasted: "We provide wireless services, and we are the only people that others are competing with. We will have the quality of services that will bridge the gap of our competitors."
He reminded the Liberian public to rest assured that LIBTELCO has the technical and professional skills and the reservoir of experience to perform more than other private GSM companies in the country.
According to the Managing Director, LIBTELCO's strength also lies in providing quality, fastest, and non- interference services it offers its valued customers.
"We came with excessive force that will satisfy our customers," M.D. Tobii said.
The LIBTELCO Managing Director indicated that the corporation provides services to corporate and diplomatic institutions, including the U.S. Embassy, World Bank, Central Bank of Liberia, and the African Development Bank, just to name a few.
"We use the same strategy that allows us to compete with the leading GSM companies and to capture more customers," he said.
LIBTELCO has built a modern basketball gymnasium at the Paynesville hub, a playground for children, and a hall that other institutions and groups, including churches, business outfits, alethic clubs, among others, use to conduct programs of their interest and to play basketball games.
According to the Managing Director, the operation of the basketball court and other public-service initiatives are a part of LIBTELCO's corporate social responsibilities. "You cannot call customers without getting back to the community. The basketball gymnasium and the playground are places where people who live in the vicinity and its environs can come and exercise; high schools around here can use the space, and churches and groups around here can use the space for whatever program they have," he disclosed.
Mr. Tobii, however, noted that there would be a minimum fee charged to users to enable the corporation to maintain the modern facilities. "We have discounts for all groups; schools, churches, youth groups, and community leaders," he pointed out.
Upon announcing that LIBTELCO was entering the mobile communication space to compete with others, many other persons raised concern that it is government- owned. As such, it would dominate the sector regardless of established regulations.
But MD Tobii categorically dispelled the notion that LIBTELCO would dominate and infringe on other
companies' rights.
"We have laws and policies governing all of us; we have to compete, and being a government entity does not allow us to infringe on the basic rights of other entities. We can all compete in a bid," he emphasized.
He stressed that government-owned companies operate worldwide, and Liberia is not the first to have LIBTELCO compete with private companies.
During the ceremony, the Minister of Post and Telecommunications, Cllr. Cooper Kruah said it is the intent of the Liberian government, headed by President George Manneh Weah, to provide services for its people all over the country and not Monrovia alone.
Cllr. Kruah indicated that the opening of the hub at Redlight Community is a realization of part of the government's development dreams.
He said the government is ready to establish other hubs in both the urban and rural parts of the country so as to draw more Liberians and residents together through communication.
Madam Estella Liberty Kiamue, Director-General of the state-owned Liberia Broadcasting System (LBS), who served as a keynote speaker, expressed her excitement for the extension of LIBTELCO activities in Paynesville. "We, at LBS, are direct beneficiaries of LIBTELCO's internet services, and coming to Paynesville is to our advantage. We hope you can extend to the rest of the country with your services to create easy access to communication service for the Liberian people," she said.
LIBTELCO has also established a similar telecommunication hub in other parts of the country. On December 23rd, 2020, LIBTELCO officially launched its transition to LTE. The colorful ceremony, held on the campus of the Highway Christian Fellowship in Paynesville, was graced by some dignitaries, including the Representative of Paynesville City Mayor, Madam Pam Belcher-Taylor; Madam Edwina Crump Zackpah, Acting Chair, Board of Commissioners; Ralph N. Sonkarlay, Director, Business Development (LIBTELCO) among others.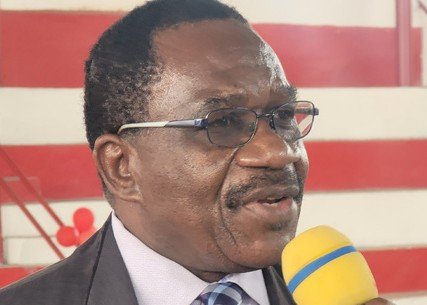 Tobii (left) and Andy Slober Chea, Deputy Managing Director of Operations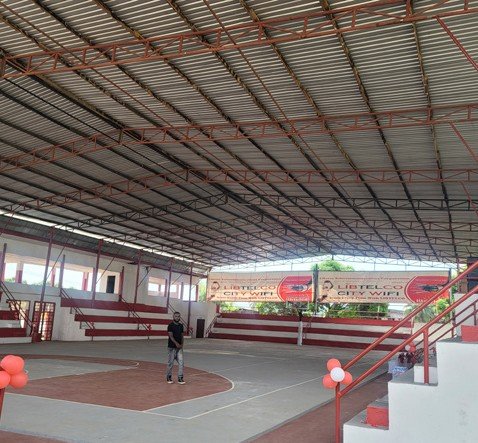 Cllr. Cooper Kruah, Minister of Post and Telecommunications
Andy Slober Chea, Deputy Managing Director of Operations